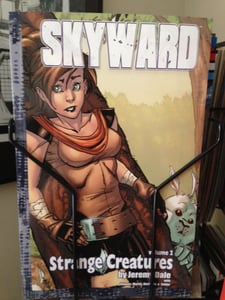 $

10.00
Skyward Vol. 2: Strange Creatures
Jeremy Dale and Action Lab proudly present the second volume of the runaway hit action-fantasy, Skyward! New, curious allies and strange, twisted enemies emerge as Quinn runs headfirst into a conflict that's bigger than he ever dreamed possible. Who will catch up to our young hero? Enter the savage Rabites! Or will it be Skerrigan who ends our hero's journey? Collects Skyward #4-6.
NOTE: WE HAVE A VERY LIMITED NUMBER OF THESE LEFT. Order soon!
Please allow 2-4 weeks for shipping.